MEZAVANT FOR ULCERATIVE COLITIS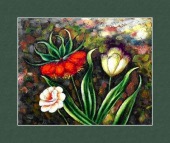 Mezavant tablets whole, taking care not to break the outer coating. The outer coating is designed to remain intact until at least pH 7, normally in the terminal ileum, to protect the active ingredient, mesalamine, and ensure its availability throughout the colon.
The concurrent use of mesalamine with known nephrotoxic agents, including non-steroidal anti-inflammatory drugs (NSAIDs) may increase the risk of renal effects. In patients receiving azathioprine or 6-mercaptopurine, concurrent use of mesalamine can increase the potential for blood disorders, especially leucopenia.
Mezavant is intended for once daily, oral administration. The tablets must be swallowed whole and should be taken with food.
The recommended dose for the induction of remission in patients with mild to moderate ulcerative colitis is two to four 1.2 g tablets to be taken once daily for a total daily dose of 2.4 to 4.8 g.
Mezavant features a Multi Matrix System (MMX) to delay and extend the delivery of 5-ASA so that effective concentrations are available throughout the entire colon for 24 hours.
Most common side effects are flatulence and headache.