CHAMPIX - VARENICLINE FOR SMOKE CESSATION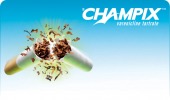 Pfizer Canada just introduced CHAMPIX into the market, an innovative smoking cessation therapy to help motivated people quit smoking and stay quit. It is not an antidepressant and its chemical structure is different from Zyban - bupropion (C13H13N3.C4H6O6 and C13H18CINO respectively). Its partial agonist activity at brain nicotine receptor stimulates release of a little dopamine to ease craving but mostly, it blocks receptor sites to prevent nicotine from cigarettes to exert addictive effects.
Champix provides twice the odds of quitting smoking when compared against bupropion.
The initial course of Champix therapy is 12 weeks. An additional 12 weeks may be considered to help successful candidates to stay quit.
Side effects may appear in initial weeks and include nausea, headache, constipation, gas, trouble sleeping, and abnormal dreams.
Champix tablets may be taken with or without food.
When on Champix, nicotine patches and gums are not recommended to be used concurrently.