NUVARING IMPLICATED IN AORTIC THROMBOSIS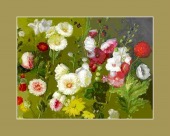 A 21-year-old obese woman who smoked 10 to 20 cigarettes per day experienced an aortic thrombosis 15 months after she started using NuvaRing which contains etonogestrel and ethyl estradiol. Her fibrinogen level was high 6.4 g/L (normal 2-4). She was treated with aortic thrombectomy. An embolus was also removed from her left leg.
She did not have a family history of thrombo-embolic disorder, risk factors such as varicose veins, recent injection/infusion, long-distance travel, prolonged immobilization, surgery or trauma.