Meet The Staff
DAVID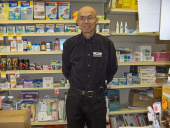 Born in China
Grew up in Hong Kong
Graduated from University of Toronto Pharmacy School in 1973
Worked in Kingston for 7 years
Opened Millbrook Pharmacy in 1981
Pharmacy is a good profession which provides me with an easy avenue to connect with people and help solve their health problems.
SOME FOOD FOR THOUGHT:
Don't let what you cannot do interfere with what you can do. – John Wooden
Life begets life. Energy creates energy. It is by spending oneself that one becomes rich. – Sarah Bernhardt
Life can only be understood backwards, but it must be lived forwards. – Soren Aabye Kierkegaard
Life is something to do when you can't get to sleep. – Fran Lebowitz
Laughter is the closest distance between two people. – Victor Borge
Life is too serious to be taken seriously. – Mike Leonard
STEVE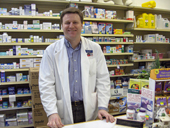 I have lived in the Millbrook area since 1978.
I received a Bachelor of Arts degree in Life Sciences from Queen's University (Kingston, ON) in 1990 and a Bachelor of Science Honours degree in Pharmacology and Toxicology from the University of Western Ontario (London, ON) in 1993.
I graduated from Memorial University of Newfoundland School of Pharmacy in 1999.
I have been a pharmacist at Millbrook Pharmacy since August 1999.