AVALIDE CAN BE 1ST LINE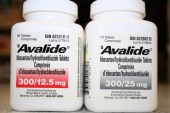 Avalide is normally indicated, not 1st line, for the treatment of hypertensive patients with Type 2 diabetes mellitus and renal disease to reduce the rate of progression of nephropathy (increased microalbuminuria and serum creatinine).
However, Avalide has been shown to induce dramatic reduction (as much as 30 mm HG) within a week. It is now indicated for initial therapy for "severe" hypertension (sitting DBP>110mm Hg).
Most common side effects: dizziness, fatigue, headache.